Commodity Name: Epoxy coated wire netting and various wire mesh
Material: Made of superior mild steel wire, stainless steel wire, aluminum alloy wire, epoxy coated after plain weaving. A variety of colors for your choice.
Features: Light weight, good flexibility, good corrosion resistance and ventilation, easy cleaning, good bright and environmental friendly.
Application: Epoxy coated wire mesh products are mainly used against bugs and flies in hotels, buildings and residences; or used in grading of particles, filtering of gas or liquid.
Specification: 14X14, 16X14, 14x18, 16X16, 18X16, 18X18, 18X14, 20X20.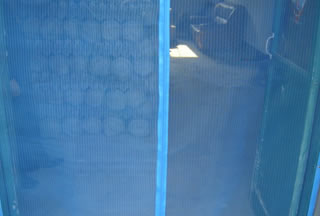 Epoxy Coated Wire Mesh Window Screen
Mesh
Gauge
Size
12x12 12x14
0.17, 0.19, 0.21, 0.23, 0.25
Width: 2' - 6'
Height: 50' - 300'
14x14 14x16
16x16 16x18
18x18 18x20
20x20 20x22
22x22 22x24